"Full Metal Jacket"
2/60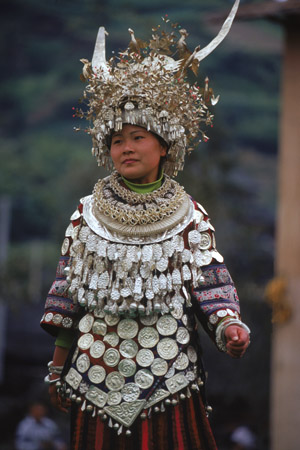 Ethnic Miao people have very colorful and unique costumes, beautiful and with many varieties of styles depend on tribe-to-tribe, village-to-village. Silvery ornaments are widely used and are the most common and important jewelry decorations among Miao women. They are also the symbol of wealth.

Photographer:  Yau-Sun Tong
Camera: Leica R8 + 70-180mm/f2.8 Vario-APO-Elmar-R
Click to View Previous Image Click for Next Image in Series

About the photographer.
Go Back To Photo Gallery Series 2
Go To Gallery Homepage
Go To Mister Tong's Taiji Homepage
---
Archivable high gallery quality prints available.
To order or to contact the photographer:
YauSun.Tong@gmail.com
All images are protected by Canadian and International ©Copyright Laws and are the sole property of the
photographer and as such can not be reproduced in any medium without the consent of the photographer.