Iron Horse As Well
37/50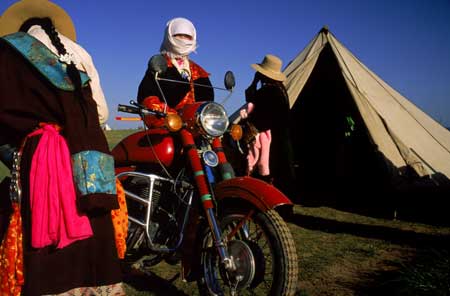 Located in northwest China, Qinghai province has the largest Tibetan population outside Tibet Autonomous Region. In the area, many herdsmen also acquire their own motor vehicles, from motorcycles, cars to trucks. Seen in the image is an interesting earliest brand motorcycle made in China with a long history.

Photographer: Yau-Sun Tong
Camera: Leica M6 + 35mm/f1.4 Summilux-M ASPH.
Click to View Previous Image Click for Next Image in Series

About the photographer.
Go Back To Photo Gallery Series 1
Go To Gallery Homepage
Go To Mister Tong's Taiji Homepage
---
Archivable high gallery quality prints available.
To order or to contact the photographer:

All images are protected by Canadian and International ©Copyright Laws and are the sole property of the
photographer and as such can not be reproduced in any medium without the consent of the photographer.