Greetings!
I'd like to invite you and your friends to my specially designed expedition starting from Beijing completely by train all the way to Tibet, then across the border into Nepal, from Kathmandu flying to Hong Kong for exit...
This May 26th to June 11th 2017 a 16-day expedition takes advantage of the best weather season, as well some colourfully worthy original local festivals happened to be around that time of year in regions we will visit...
Especially fascinating will be our main visit - to the Southwestern Tibet region of Gyirong area... which enchanted with beautiful nature and culture during that time of year (see few photos of Gyirong area from Chinese National Geographic - http://photo.dili360.com/hdtj/2011/1111/1119.shtml#0); Gyirong will be first time open to foreign visitors next year.
From Beijing to Lhasa by train, we will stop over some most interesting areas along Northwestern China. During the two-days stop in Shaanxi province, we will visit places including the magnificent spiritual mountain - Mt. HuaShan (http://image.so.com/i?src=rel&q=西岳华山国画作品); the World Heritage Site of Terracotta Warriors & Horses etc. historical and natural wonders...
We will also get off the train to stop over in Qinghai province for some most interesting local visits.
Special Tibet entry permits will be arranged by our expedition.
From Xining to Lhasa - the world's highest altitude railroad & simply the world's most spectacular scenic railroad travel. Followed with two days local visits in Lhasa, then by train along the newly inaugurated Lhasa-Shigatse railroad westwards to Shigatse - an important spiritual centre next to Lhasa. Then by coach starting our fascinating Southwestern Tibet region exploration... In Gyirong we will cross the border into Nepal...
An once in a lifetime worthy experience - "a Journey by Train to the Top of the World"!
See attached itinerary-map & photo-poster... Detailed daily itinerary info will be sent by request.... spaces limited! 😃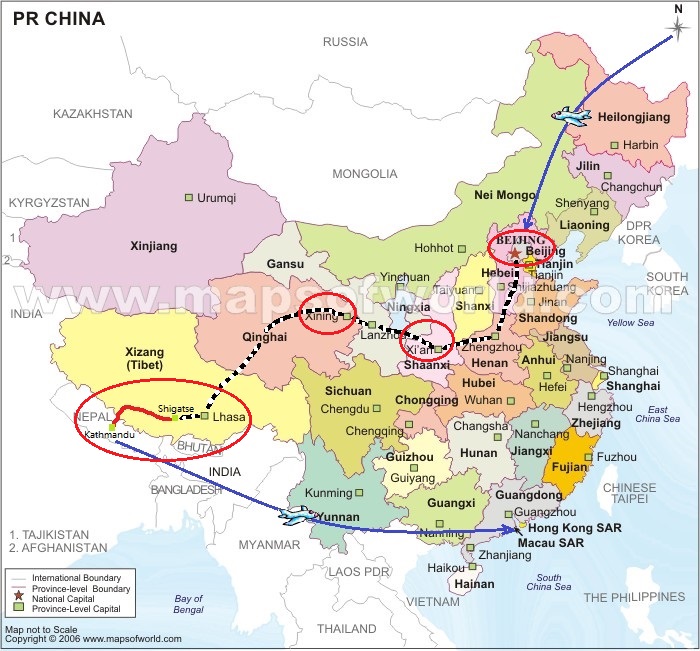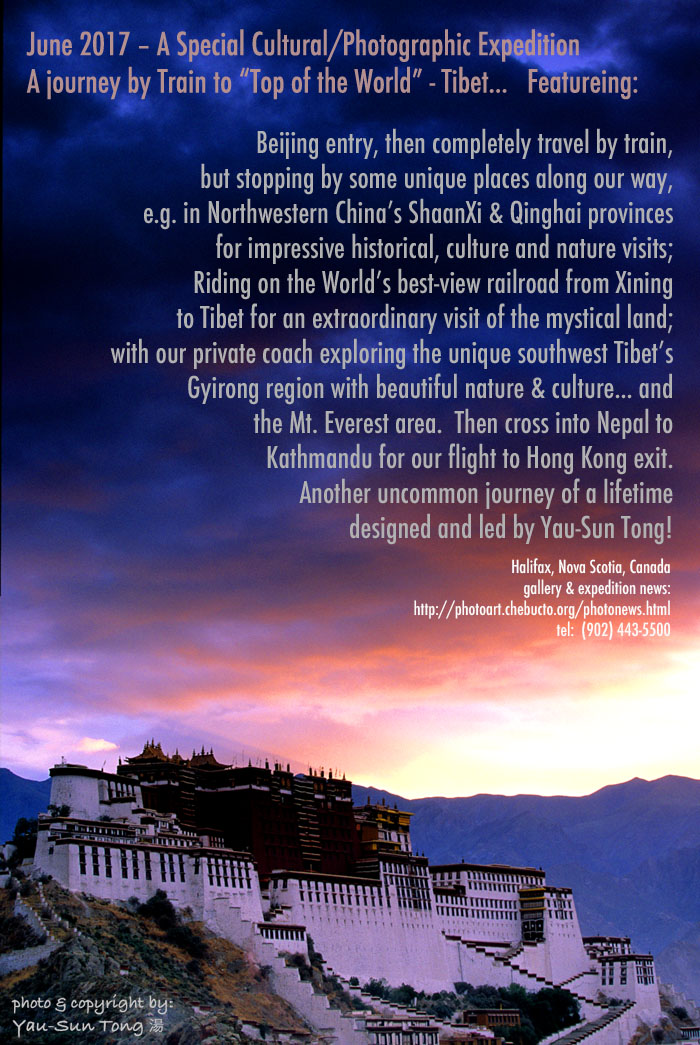 ---
About the photographer

Go Back To Expedition Tours & Gallery News
---
All images are protected by Canadian and International © Copyright Laws and are the sole property of the
photographer and as such can not be reproduced in any medium without the consent of the photographer.