By A Yak Dung Pile
16/50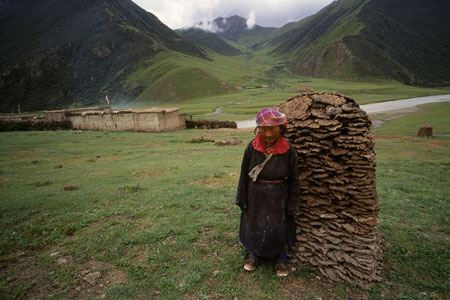 Yak dung is a source of burning fuel for cooking and heating in the prairie. Sun dried dung is collected and piled by local herdsmen. YangJin - a young Tibetan girl is standing by one of the yak dung piles next to her home.

Photographer:  Yau-Sun Tong
Camera: Leica M6 + 21mm/f2.8 Elmarit-M ASPH.
Click to View Previous Image Click for Next Image in Series

About the photographer.
Go Back To Photo Gallery Series 1
Go To Gallery Homepage
Go To Mister Tong's Taiji Homepage
---
Archivable high gallery quality prints available.
To order or to contact the photographer:

All images are protected by Canadian and International ©Copyright Laws and are the sole property of the
photographer and as such can not be reproduced in any medium without the consent of the photographer.