Rainy Day in Lhasa
7/50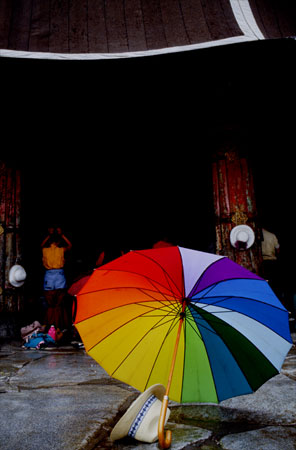 I could never find a mono-color umbrella in Tibet. During the early summer months, it often rains at night in Lhasa, seldom during the day, but it did one morning while I was there.  The umbrella and the hat belong to a pilgrim, who laid them down in front of the Jokhang Monastery, then performed the full prostration on the wet ground beside them.

Photographer:  Yau-Sun Tong
Camera: Leica M6 + 35mm/f1.4 Summilux-M ASPH.
Click to View Previous Image Click for Next Image in Series

About the photographer.
Go Back To Photo Gallery Series 1
Go To Gallery Homepage
Go To Mister Tong's Taiji Homepage
---
Archivable high gallery quality prints available.
To order or to contact the photographer:

All images are protected by Canadian and International ©Copyright Laws and are the sole property of the
photographer and as such can not be reproduced in any medium without the consent of the photographer.