Worshiper in Lhasa
40/50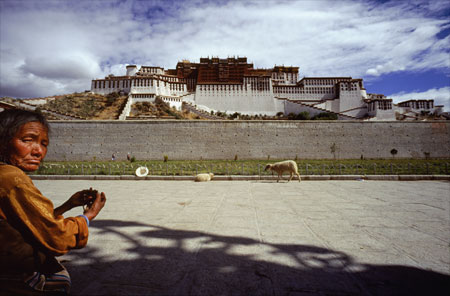 In front of the Potala Palace, there are often prayers worshipping toward to the Palace, particularly early in the mornings. With the picture in my mind, I held the M6 on my hands and lined up the scene with a wide-angle lens, kneeing just the same level with the worshiper in front on the side, waiting for her to sense and turn her head towards me, and she did.

Photographer: Yau-Sun Tong
Camera: Leica M6 + 21mm/f2.8 Elmarit-M


Click to View Previous Image Click for Next Image in Series

About the photographer.
Go Back To Photo Gallery Series 1
Go To Gallery Homepage
Go To Mister Tong's Taiji Homepage
---
Archivable high gallery quality prints available.
To order or to contact the photographer:

All images are protected by Canadian and International ©Copyright Laws and are the sole property of the
photographer and as such can not be reproduced in any medium without the consent of the photographer.