Highland Barley and Tibetan Child
26/50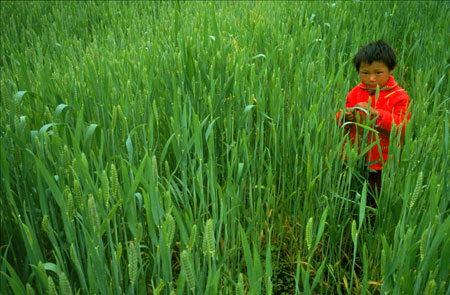 A staple in the Qinghai-Tibet highland plateau, highland barley is grown in profusion.  It is one of the only crops that can be cultivated in this climate harsh region.  Tibetans use the highland barley as a food staple and to brew a popular liquor.   Very far away on the road, I noticed a little dot of red clothed child in the green highland barley field, I formed the picture in my mind instantly, before zigzagging through the deep field of growths to bridge the distance.

Photographer:  Yau-Sun Tong
Camera: Leica M6 + 35mm/f1.4 Summilux-M ASPH.
Click to View Previous Image Click for Next Image in Series

About the photographer.
Go Back To Photo Gallery Series 1
Go To Gallery Homepage
Go To Mister Tong's Taiji Homepage
---
Archivable high gallery quality prints available.
To order or to contact the photographer:

All images are protected by Canadian and International ©Copyright Laws and are the sole property of the
photographer and as such can not be reproduced in any medium without the consent of the photographer.